If you own or run a business, you may know about reviewing platforms where customers can publicly leave their feedback and their experiences with your business. Google reviews are visible anytime someone does a Google search for your business. An average rating of all your reviews out of 5 stars is displayed with your Google My Business (GMB) profile. In a past blog, we discussed why Google My Business is so important to a business owner. Simply, GMB makes it easy for potential customers to find crucial information about you and your business. Since your reviews are visible there, it's important that you understand the impact those reviews can have. 
Potential customers trust reviews as they would a recommendation from friends or family. Think of online reviews of your business as "digital word of mouth." These reviews influence people's perceptions of your business and can sway their decision to work with you. How often have you searched to find a restaurant and read the reviews ahead of time? How frequently do you gravitate back to places with 4 or 5 star reviews? When spending money, potential customers want to be sure of where they're putting their wallet.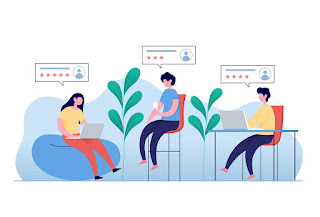 Being aware of your Google reviews is an important aspect of your business's web presence. You can respond to reviews, both positive and negative, thanking happy customers for their patronage and reaching out to unhappy ones about their experience. If you do have negative reviews, you can take the time to establish yourself as trustworthy and responsive by working with customers to make their concerns feel heard. Reviews are an excellent place to build your brand reputation. 
Not only should you respond to and keep track of the reviews you already have, but requesting reviews from clients can help bolster your online review presence. This process is called review management. Clients are contacted to give private feedback after doing business with you; after giving you positive feedback, they are then given an easy link to post that review to Google. This process will help increase your review numbers, which in turn increases your visibility in Google searches. 

Essentially, your Google reviews are where potential customers go to see if you're the type of place they'd like to do business with. Since reviews are so easily found, and closely attached to your business's Google presence, it makes sense to ensure the reviews reflect well. Interested in learning more about keeping track of your Google reviews, or review management? i4 Solutions is your digital marketing resource. Contact us today.