We all do it. When we have a bad experience with a business the first thing we all think about doing is going online and making them pay by leaving a one-star review. But what about when you have a good, great, or an amazing experience? It goes unnoted and we don't post about it. We just carry on with our lives. In this article, we want to talk about why your online reputation matters, how it affects your business, and just as important, where your reputation matters.

Imagine you are on vacation, it's almost time for dinner, and you're starting to feel hungry. You pull out your phone and start searching "places to eat near me". You start seeing local restaurants, taking into consideration the $$ scale, and more importantly, the reviews.

You find a great little local Italian restaurant and the price seems fair, their rating is an overall 4.3 and you're finally thinking this is the place you want to go to tonight. But as you start reading the most recent reviews, you notice everyone is leaving 1-2 star ratings stating "I got food poisoning", "They must have changed chefs", or "Used to be really good". Now you're considering your choice. Surely not everyone who was there got sick, but because we as consumers only review businesses when we have a bad experience, it warns other prospects to STAY AWAY!

It's not just about your overall rating, its also about your most recent reviews. In fact, 85% of consumers think local reviews older than 3 months are irrelevant. Just like the restaurant scenario, your business's reputation will determine if a prospect signs up with your business or will even consider you. The bottom line is around 88% of potential clients or customers WILL read your business reviews before they make the decision to buy your product or work with you. You want those reviews to not only be 4 and 5-star ratings but also to be within the last 3 months.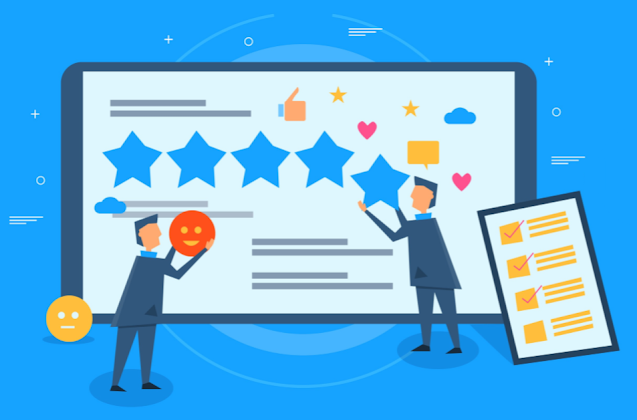 How Your Reputation Is Affecting Your Business
Gone are the days where businesses can just put on an ad and generate more business. Don't get us wrong, advertising is still extremely important and it allows potential customers to learn about you. But consumers are doing more research than ever due to how simple and easy it is to learn about others' past experiences. Advertising brings potential customers to you, but what actually closes the deal is your reputation. 
Warren Buffet said it best "It takes 20 years to build a reputation and 5 minutes to ruin it." No one wants to work with a business that has a bad reputation. Research by the Spiegel Research Center reveals that the likelihood of a product getting purchased increases by 270% when it gets 5-star reviews.
The bottom line is this: by simply having a few solid 5 star reviews, you will see an increase in site traffic, which will result in your business closing more deals, getting more customers, and increase revenues.
Where Your Reputation Matters
Consumers want to see the honest and real feedback from others. They don't just want to look at the few reviews your business has hand-selected to showcase on your website. So the question is; where should you focus most of your efforts on gaining positive reviews?
The answer is wherever customers are finding you. The main place is going to be:
Google
Facebook
Yelp
Industry-specific sites (Home advisor for contractors, WebMD for medical providers, The Knot for wedding-related businesses)
Something to keep in mind is that consumers also want to see negative reviews. That's right. According to a 2016 report by PowerReviews, 82% of shoppers specifically seek out negative reviews and will actually spend 5 times as long on a site when they interact with a negative review. This results in an 85% increase in conversion rates. The reason? Other data shows that a near-perfect rating is less credible and leads to skepticism if reviews are too positive. 
How Can I Increase My Reputation?
Most reviews come from an angry customer, but humans, at their core, want to help. Which is why 70% of consumers will leave a review for a business when asked. The key is to make it as easy as possible for your customers to leave you feedback. 
If you are interested in increasing your reputation, but don't want to ask your clients directly, we can help! At i4 Solutions, we have packages that start at $99/month. We have review invitation options that can get you the star rating you want for you business. To learn more reach out to your i4 Account Manager or 
click here
 to get started!